We may earn money or products from the companies mentioned in this post.
When you're working with clients, time is money. Time is always money, but it starts to get really expensive when you're running your own business. You realize you have two ways to increase your income: (1) find people who will pay you more, and (2) find ways to maximize the value of every hour.
You might save a few dollars by using free tools or doing things manually, but those dollars can cost a LOT more if they cause you to waste time that could have been better spent prospecting or doing actual paid work.
One of the best ways to maximize the value of your hours is through tools (outsourcing is another, but that's a topic for a different day). A good set of tools can save you hundreds or even thousands of hours, allowing you to drastically increase your earnings and output. Things that once took hours or multiple assistants can now be done in a matter of moments, making it a great time to be a self-employed consultant/freelancer.
These are the tools I like and use – some all the time, others on a case-by-case basis when a project warrants it. I've used them all, though, and while I do include affiliate links where available, rest assured there are plenty of products and tools with affiliate programs that didn't get included in this list because I can't honestly recommend them.
Client Tracking & Reporting Tools
When I first started out in my professional marketing career, there was very little in the way of client reporting tools, and most of what existed was both expensive and underwhelming. I still remember spending a couple hours every few weeks MANUALLY searching dozens of keywords at my day job so we could figure out where things were ranking. It was a tremendous waste of time and skill, but it had to be done.
Luckily, there are loads of options now. Below, I've given some basic descriptions of the tools I use and when I use them – because I definitely don't use all of them all the time.
Agency Analytics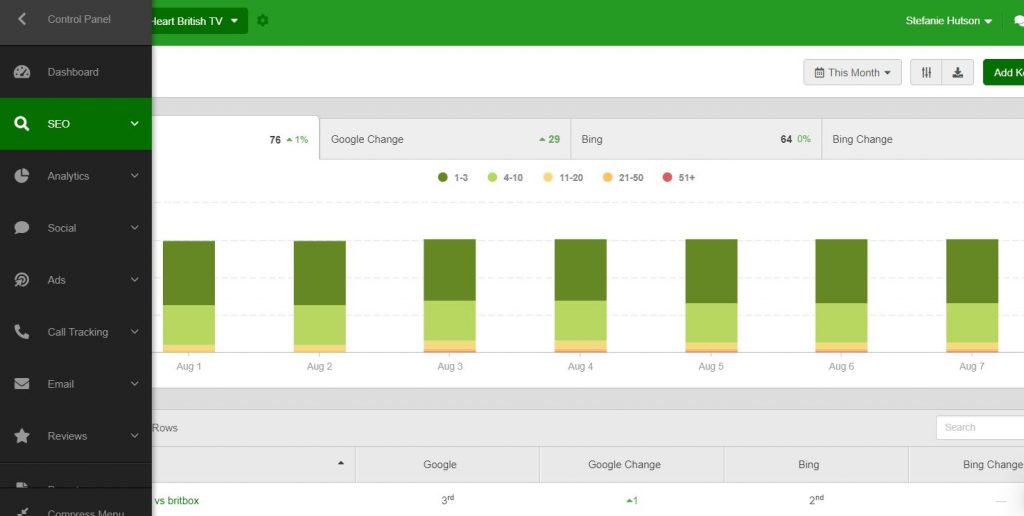 For years, this has been my go-to tool for basic SEO/PPC/social media reporting. The reports it generates are bright and clean, and it's simple enough to get the hang of things without a lot of messing around. I love intuitive tools, and this one makes life easier for both myself and my clients. You can use pre-built report templates, or drag-and-drop to build your own without too much trouble.
It's also relatively affordable, as professional tools go. They have small plans well-suited to beginning freelancers ($49 at time of writing), but it also scales up and has cost-effective options for bigger businesses, too.
You CAN create logins for clients to check on reporting at any time, but it's not something I usually recommend because (a) I've found most clients don't actually WANT that much information thrown at them, and (b) it encourages certain types of people to get really needy and micromanage-y in a way that's not good for either party.
That said, I occasionally have clients who want more granular, customizable reports, especially for PPC. Agency Analytics is sufficient for  probably 90% of the clients I've had over the years, though, so I pretty much always have at least the base level subscription.
READER DISCOUNT: Use code AA_PARTNER_14886 to get 50% off your first order with Agency Analytics. Start your free trial HERE.
Swydo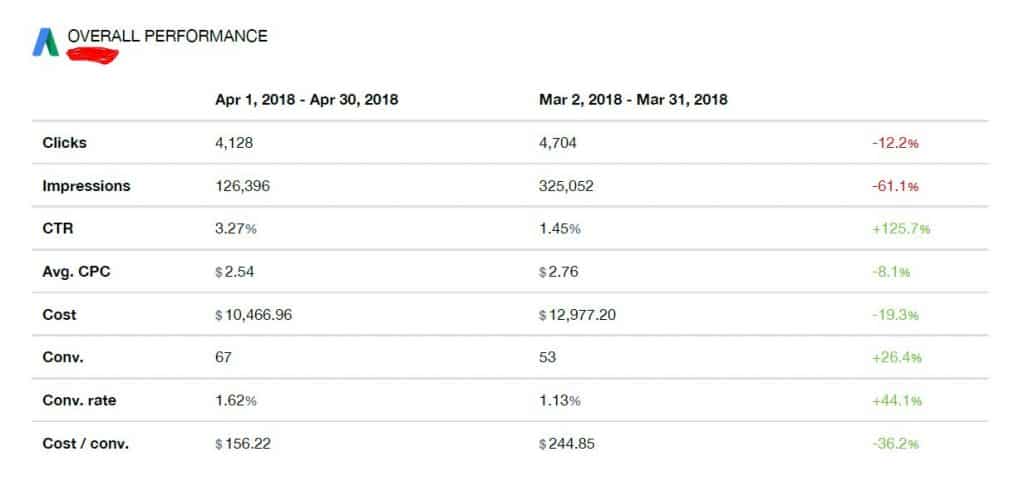 If you're working with big, complicated PPC accounts, Swydo is fantastic. It's not as attractive as Agency Analytics, and their base plan costs a little more – but it does let you connect more accounts, so I guess that bit balances out.
The main thing I love about Swydo is that it just has a lot more reporting options. They also offer SEO and social media reporting, but personally, I've only used it for PPC.
One of my favorite things is the way you can easily insert comment sections before or after different reporting widgets. For example, you could have data about PPC performance by device or gender, then insert some commentary about what that means for the future of the campaign. If performance was down in a particular area, you could insert notes about why – preventing the client from reading the report and panicking before you get a chance to explain and reassure them.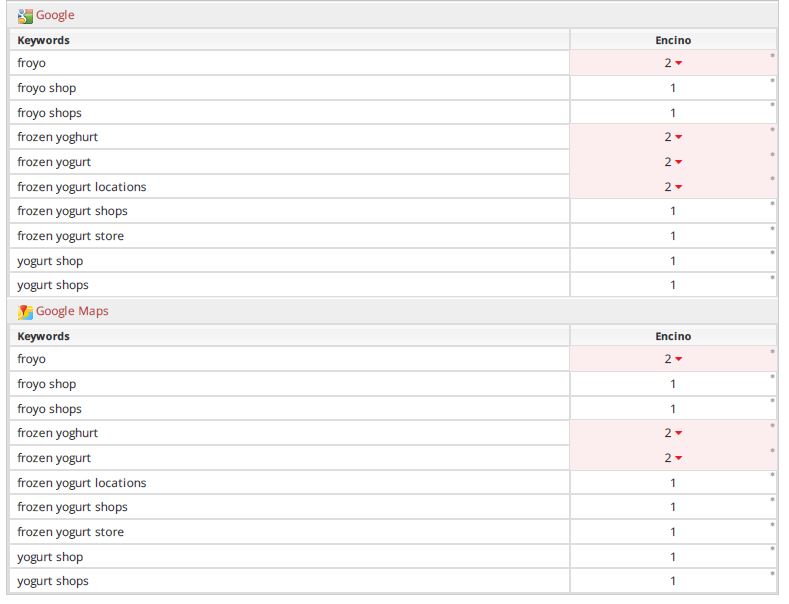 Georanker is a more specialized tracking and reporting tool because it focuses on local search results. While Agency Analytics does let you specify the city you want to track results for, it becomes a mess pretty quickly if you're dealing with a business that has multiple locations.
I primarily use Georanker when I'm working with franchisors that want to track search performance for a number of franchisee locations. It's really, really good for that sort of thing. At $99/month, it's not my go-to tool for simpler accounts. The reporting isn't terribly attractive, and I don't find it quite as straightforward and easy to use as some of the other tools out there.
Research & Competitive Intelligence Tools
This is probably my favorite category because it's just so darn interesting. I love looking into the little details of what other companies are doing – things most people will never see or even think about. It's incredibly useful for a marketer, and it gives you a kind of education you won't get any other way.
These tools can also be useful when it comes to finding clients, both in terms of finding people who need you and getting valuable information for your pitch.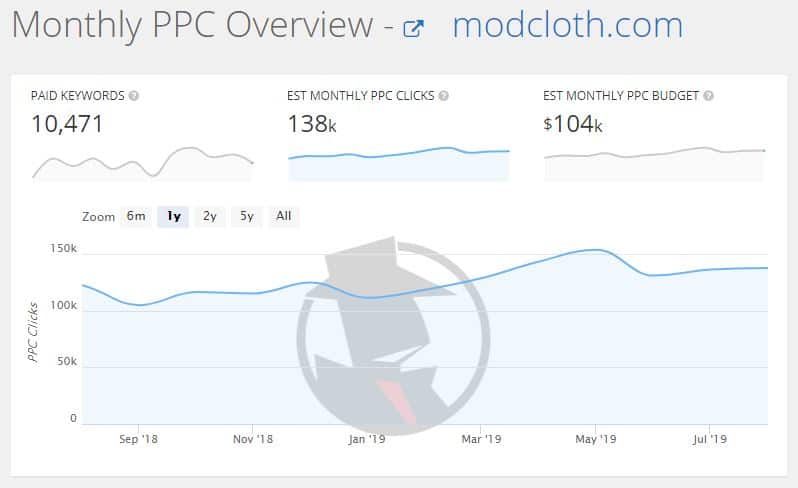 SpyFu is a tool I've used off and on for years – both for competitive intelligence and for pitching research. It's reasonably affordable, has a great interface, and it's really, really useful. The money I've made from using this tool easily climbs into the 6-figure realm.
Although their data can be a bit imprecise (as is true of every spy tool), it's good enough to give you a sense of where things stand. If you're looking for PPC clients, you can get an idea of how much different companies are spending AND what kind of ads and keywords they're working with. I've gotten more than a few clients by looking at SpyFu and finding companies who weren't doing a good job of targeting and using negative keywords. The budget information is also great because it gives you a sense of how much a client might be willing to pay you to manage or optimize their ads.
The SEO data is also useful. If you see a competitor getting tons of valuable traffic from a keyword your client's not showing up for (or YOUR site, if you have one), you can figure out a way to get it on-site and go after it. If you're trying to find companies to pitch, it can give you a sense of who's done no SEO, who's doing great SEO, and who has room for improvement.
There are a lot of other features I use occasionally, but they're not really the reason I subscribe so frequently. I also love that you can actually do a bit of research with the free version, even when you're not actively subscribing. It's not nearly as good, of course but they're surprisingly generous with the free information – and how can you not love that?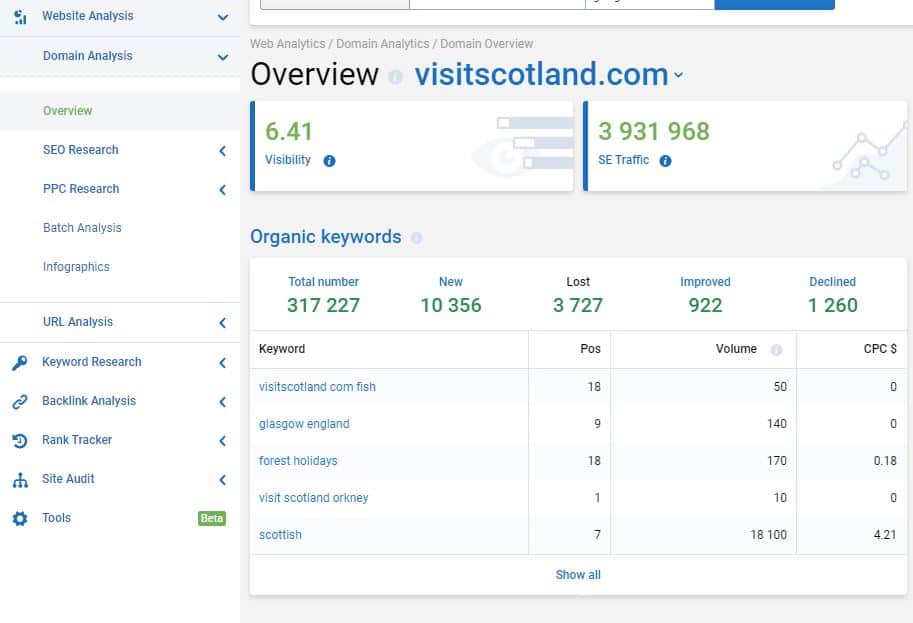 If you're looking for a good all-around SEO tool, Serpstat is fantastic. There are quite a few competing tools and some of the choice just boils down to interface preference. When I'm working with really high-budget SEO clients, I definitely subscribe to more than one at a time to check data from multiple sources, but when I'm working on mid-sized clients, Serpstat is my go-to tool. It's also great for bloggers who don't necessarily have the budget for more than one tool.
I do also like Ahrefs and their backlink database might be slightly better – but their basic plan has gone up in cost over the years (now $99/month) and it's annoyingly restricted in a way that sometimes makes it difficult to get the reports clients want without upgrading. If all you want is a backlink checker, you may find Ahrefs more useful, but if you want a tool that does a variety of things in one place, Serpstat is the way to go.
With Serpstat, paid plans start at $69/month ($55.20 if you buy by the year), but even a free plan does give you SOME information.
Semrush is a tool I don't always use, but it has some very handy features:
Display ad intelligence (figure out what banner/video ads competitors are running and see what's working for them)
Product listing ad intelligence
Traffic source data (find out where competitors are getting their traffic)
The first two are probably my favorites. I've used a number of tools over the years to gather data about competitor display ads, but they've always been expensive and outdated. Semrush is a much more affordable option, with the added benefit of also including some of the more standard SEO software features like inbound link checking and keyword intelligence.
You can check out Semrush HERE.
Link Building & Content Creation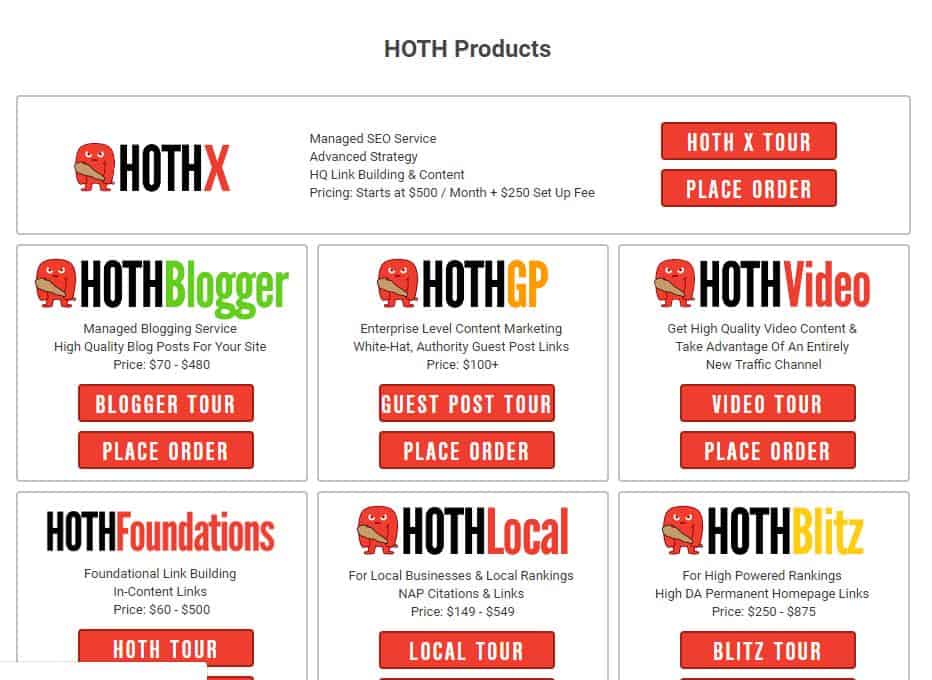 The Hoth is kind of a controversial tool for SEO providers. They offer a variety of SEO-related services, all of which can be useful in the right situation. A LOT of SEO agencies use The Hoth almost exclusively when they build links for clients.
It would be irresponsible of me to tell you to just get clients, use The Hoth, and call it a day. The Hoth can be great if you use it responsibly, but if you've read anything about Google and SEO, you know they don't really want you buying links. They've spent incredible amounts of time and money trying to stay ahead of those SEOs who buy links and generally try to manipulate their way to the top of the results.
If you're just using things like the rank tracking or blog writing services, you won't need to worry about the possibility of Google penalties or links being devalued. I would never, ever recommend using an outsourced, fully-managed SEO service on a client site, though, and when it comes to things like guest post links or HothBlitz, I advise proceeding with caution. Ultimately, you're the one who has to answer to your client, and you should be making the decisions and overseeing what's happening.
As part of a larger SEO strategy for a site with an existing set of quality inbound links, you may feel it's okay to add in some link building from a service like The Hoth. I've used it with select clients and gotten great results. It really all depends on the niche, the budget, the client's tolerance for risk, and how aggressive you intend to be. Should you take a brand new site and just set it on auto-pilot with nothing but links built through The Hoth? I wouldn't advise it.
If you want to use The Hoth and you're not sure how aggressive you'd like to be, I'd recommend talking with one of their reps and then dialing it back about 50% from whatever they suggest to err on the side of excessive caution. While I've never known anyone who saw penalties after using The Hoth, there's no way to be completely sure what Google will do in the future, and buying links will never be completely without risk.
Want to see what The Hoth has to offer? Check them out HERE. 
Whether you're running a blog that needs content or you're offering blog services to clients and you need someone to do the heavy lifting, Hire Writers has very reasonable rates and quick delivery. For a beginner-level writer, expect to pay $1.85 for a post of 150-300 words, up to $14.40 for a post of 2000-3000 words. For an expert-level writer, the same lengths will start at $7.00 and go up to $60.
If you need an ebook, expect to pay $80 for an ebook of approximately 5000 words, written by a beginner-level writer. At the other end of the spectrum, an approximately 50,000 word ebook by an expert writer will cost $1250. Note that all these rates are current as of August 15th, 2019. They could change at any time.
I tend to get slightly better quality from working with writers who know me personally and know what I like – but it also takes a bit longer and costs a bit more. If you need content quickly and affordably, Hire Writers might be exactly what you need.
Email Providers
Email is absolutely vital to any online freelancer's business. I spent the first 8-9 years of my freelancing career using a plain old Gmail address, so I want to emphasize that you absolutely DO NOT have to get your own email at a personalized domain. It's a nice touch, but using a free account isn't a barrier to earning six figures. If you DO go free, I recommend using Gmail. There's just something that feels comparatively unprofessional about a Hotmail or Yahoo! account.
If you choose to get a domain and use that for your email, I very strongly recommend going through GSuite instead of using the free webmail from your hosting company. It does have a monthly fee, but the deliverability from hosted email can be all over the place. I once sent out tons of pitches over the course of a few months, and almost nothing was getting opened.
I thought I was writing terrible subject lines until one day I sent an email to someone I knew with an MSN email. It bounced back with a message about MY email being related to a spam IP. The hosting company couldn't/wouldn't do anything about it, and when I switched over to Google-managed email, my open rates skyrocketed. My hesitance to spend an extra $10/month (or whatever it was at that time) cost me a ton of time and possibly some opportunities.
So in summary, free emails aren't a bad thing, but if you opt for your own domain, do it right.
Checking Emails
If you're anything like me, you probably have a variety of email addresses. On my phone, I use the Gmail app to check only the most important addresses – my main personal Gmail account and two business accounts I use through Google.
On my desktop and laptop, however, I  use eM Client. It's sort of like Outlook, but a bit simpler and very affordable. It's especially useful if you have other sites and blogs with hosted webmail, since you can set them all up in eM Client and it checks them all at once.
What Tools Do You Use to Run Your Freelancing Business?
This covers our favorites, but we've no doubt missed tons of great tools. What are your favorites? Let us know in the comments!