We may earn money or products from the companies mentioned in this post.
We LOVE Canva. Neither of us are graphic designers, and while we're not total Photoshop dummies, we're FAR from experts and it takes us way longer than it should to do anything. Enter Canva.
Canva lets us do 95% of what we need to do in a fraction of the time – without hiring designers. That's not to say we don't occasionally break out Photoshop or get professional help, it's just that we really, really love Canva.
There's one thing that consistently drives me nuts about Canva, though – or rather, there WAS one thing that drove me nuts about Canva.
It's the fonts.
There are SO many of them and they can take FOREVER to scroll through, especially if you're on a slow connection. It's also a pain in the butt to do all that scrolling if you're using a trackpad rather than a mouse. Far too often, my finger slides to the wrong place and I have to start back from the beginning.
I very quickly developed a habit of using the same 2-3 fonts ALL. THE. TIME. While that's not always a bad thing, it became a bad thing because sometimes, you really do need a chunky, wide font…and other times, you need something narrow so your headline fits in the allotted space. And sometimes, you want something classy and sophisticated…
And there I was, sticking with my Glacial Indifference and Antonio Bold. Eventually, I got fed up with forcing the same few fonts to work in every situation, and I decided to solve my own problem. I decided to make a printer-friendly reference to the best fonts available in Canva Pro – that way, I'd never have to scroll again. Instead, I could just turn to the right section in my font guide and find what works for the design.
What is the Printable Font Reference for Canva?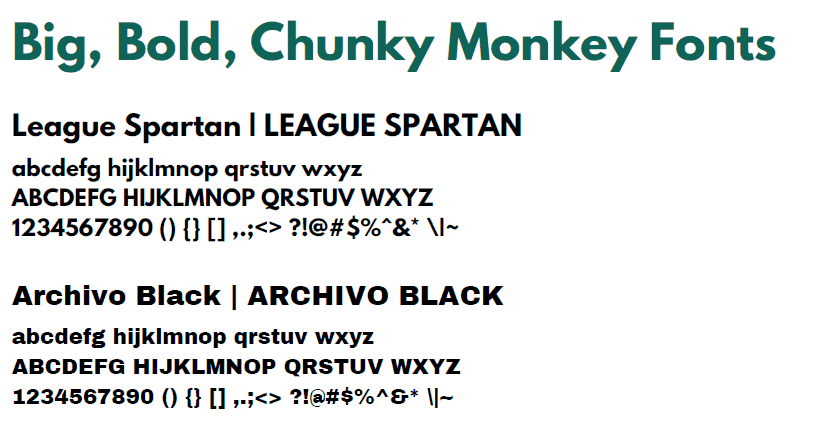 First off, let me be very clear – this is not in any way affiliated with Canva. I just used the fonts available in Canva to make it.
This is a printable reference to the fonts available to you in Canva Pro – not all of them, but a few hundred of the best ones. I believe most of them are Google Fonts, but I'm not sure if that applies to 100% of them. Either way, they're all fonts that are free to use in your designs.
I've divided them up into sections by style, and with each font, I've typed out the entire alphabet + special characters so you can see in advance if there's a wonky "W" or really strange looking ampersand. You'll also get a sense of how big or small the font is, as I used the same font size for each entry – but some appear much smaller or larger, relative to the others.
It's 68 pages in total, so if you print two-sided pages, it's not TOO terribly long. I've added Post-It tabs to my personal copy, as it makes it easier to find the sections I want quickly.
The sections, in case you're wondering, are:
Big, Bold, Chunky Monkey Fonts
Narrow Fonts
Plain & Simple, Hold the Serif
Simple, with Serif
Cursive Fonts for When You're Feelin' Fancy
Vintage &/or Upscale Fonts
Fun & Fanciful Fonts
Where Do I Get this Printable Font Reference Guide?
And now for the good news – the guide is yours, free. I made it for us, we've found it incredibly useful, and now we want to share in hopes that it will help somebody else. Just sign up below and you'll get access. We love sharing useful tools and information for bloggers, consultants, and other self-employed entrepreneurs, so hopefully you'll enjoy it enough to stick around.
[cp_popup display="inline" style_id="1099″ step_id = "1"][/cp_popup]
Share it on Pinterest!