We may earn money or products from the companies mentioned in this post.
Permalinks are among the first things I set up when building a new WordPress blog. They're vital to your search engine optimization efforts, and user experience. Let's dive in and learn why permalinks are so important and how easy they are to set.
What are Permalinks?
Permalinks refer to the URL structure of the blog posts and pages on your blog. Here's an example of a permalink:
https://www.blogempirebuilder.com/how-bloggers-can-make-more-money-with-low-content-products/
In other words, permalinks are just the URL address of a page. This is how people can link to or visit specific pages on your blog.
A domain like:
blogempirebuilder.com
isn't a permalink. The permalink the part after the domain:
how-bloggers-can-make-more-money-with-low-content-products/
You'll also see this part of the URL referred to as a URL slug.
Why Are Permalinks Important?
Why is it important to set our permalink structure? A few reasons:
It makes navigating websites possible. Pages on your site need to have a unique 'address' so people can visit them right?
The right permalink structure is an important part of your blogs SEO plan
The Relationship Between Permalinks and SEO
I'll show you how to set permalinks soon, but first it's important to understand why we set them a specific way.
Take a look at this permalink structure:
https://www.blogempirebuilder.com/?p321
That URL doesn't tell us anything about the page's topic.
Now look at this permalink structure:
https://www.BlogEmpireBuilder.com/how-to-start-a-blog
You can look at the above permalink and know what the page you're visiting is about.
Permalinks help people figure out the topic of the page, but they also help Google (and other search engines) understand what your page is about.
How to Set Up Permalinks in WordPress
Open 'settings' in your WordPress admin area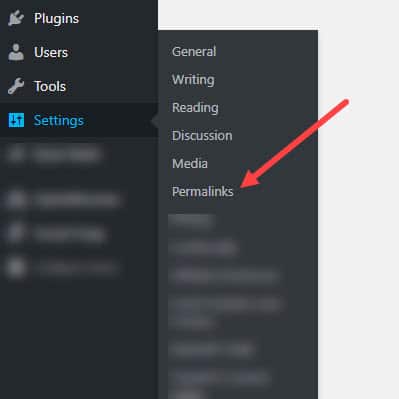 Your Permalink Choices Are Listed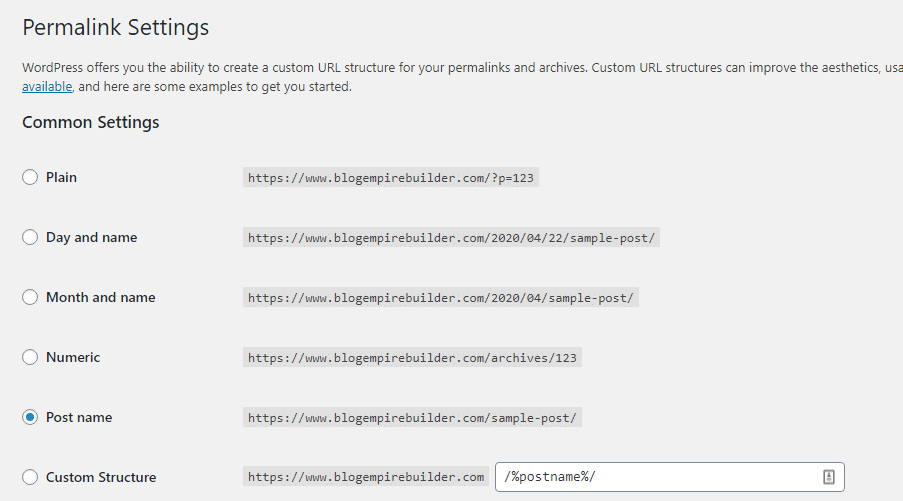 Each option shows how your URL's will look when you publish posts.
For all of our blogs we use the permalink structure 'Post name'. We use this because it's easy to read and uses keywords from our post title.
For more info on keywords check out our keyword guide. We create our post titles with specific keyword phrases to 1) let our readers know what the post is about and 2) help Google understand what our post is about.
With the 'post name' choice, our URL's will always be our domain name followed by the post title. For example:
https://www.BlogEmpireBuilder.com/learn-how-to-blog
https://www.BlogEmpireBuilder.com/write-the-perfect-post-title
There might be specific situations where you would use another permalink structure, but for most people this is the best choice.
How to Change Permalinks in a Post Already Published
'aaahhhh…I already published posts with the wrong permalink structure!'
Don't worry – it's easy to change permalinks in a post you've already written.
In your WordPress admin area, edit the post you want to change the permalinks for:

You can then change the permalink to your preference:

Hit OK and that's it!
That wraps up what you need to know about permalinks. The main idea here is we want keywords in the permalink for readability and SEO.
Changing permalinks should be one of the first things you do when setting up a new WordPress blog. It's ok if you haven't – you can always change them following the instructions above.
To learn more about starting a blog, check out our free blogging guide.